In The News
Opening and preparing scallops
In France, scallops – a delicious seafood delicacy greatly appreciated by the French – are in full season. Scallops can be bought without their shells, but amateurs enjoy preparing them from start to finish.
1. Hold the scallop with its rounded side down in the palm of your hand. Insert an oyster shucker between the shells close to the hinge
2. Work the shucker further between the shells. Twist the shucker to separate the shells. Cut the scallop from the flat top shell by scraping it with the shucker.
3. Carefully detach the scallop from the muscle underneath the meat in the bottom shell with a spoon. Scoop the scallop out; set the shell aside if you are going to use it in the presentation.
4. Pull away the dark organs from the white adductor muscle and the orange coral with your fingers. Discard the dark organs; rinse scallop under cold running water.
5. Pull off and discard the crescent-shaped muscle on the side of the scallop. The scallop may be cooked with or without the coral.
6. If using the shells for serving, scrub and boil them for 5 minutes.
Note

: Scallops may or may not contain coral, depending on their origin and the season.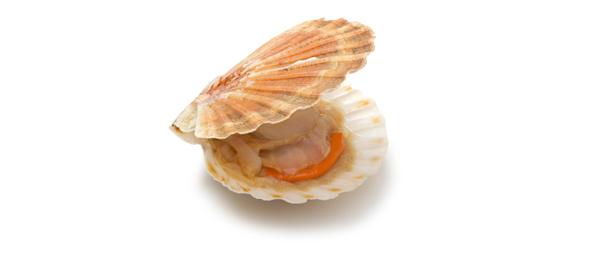 For more information